About Us
Golden Rice is a Chinese takeaway in Reading. Why don't you try our Special Chow Mein or Lamb with Szechuan Sauce?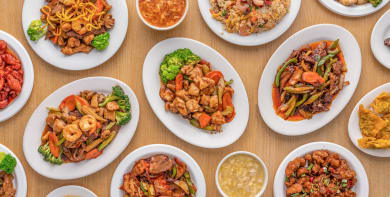 Reviews
432 reviews
Christine
"Lovley food thanks"
30/05/2020
Maggie
"Alway use Goldern rice, food is always great"
29/05/2020
Emma
"Amazing food this will now be my new regular"
20/05/2020
Christine
"Beautiful food thanks"
18/05/2020
Menu
Fish with Black Bean Sauce
Hot & spicy dish
£6.00
Fish with Ginger & Spring Onions
£6.00
Tom Yum Soup
Prawn & chicken, tomato, vegetable
Hot & spicy dish
£4.00
Crab Meat & Sweetcorn Soup
£3.20
Hot & Sour Soup
Hot & spicy dish
£3.20
Squid with Black Bean Sauce
£6.00
Squid with Ginger & Spring Onion
£6.00
Squid with Mixed Vegetables
£6.00
Squid with Sea Spice Sauce
£6.00
Shrimp Rice Noodles
Large
£5.50
Singapore Rice Noodles
Large
Hot & spicy dish
£5.80
Roast Pork Rice Noodles
Large
£5.50
Shredded Duck Rice Noodles
Large
£6.00
House Special Rice Noodles
Large
£6.00
Mixed Vegetables Rice Noodles
Large
£5.40
Mushroom Rice Noodles
Large
£5.30
King Prawn Rice Noodles
Large
£6.00
Chicken Rice Noodles
Large
£5.50
Pineapple Fritters in Syrup
£2.80
Set A1 for One Person
Sweet & sour pork balls
Chicken chop suey
Special fried rice
£9.50
Set A2 for One Person
Sweet & sour chicken balls
Beef with black bean sauce
Special fried rice
£9.50
Set A3 for One Person
Sweet corn soup
Chicken chow mein
"1 dish of your choice" (except crispy duck, crispy lamb & mixed hor's D'oeures
£10.50
Set B for 2 Persons
Crispy seaweed
Spring rolls (2)
Satay chicken
Sweet & sour chicken balls
Beef with mixed vegetables
Shredded crispy chicken with chilli
Special fried rice
£26.00
Set C for 2 Persons
Crispy seaweed
Sesame prawn toast
Spring rolls
Capital ribs
Quarter duck
Chicken with cashew nuts
Beef with black bean sauce
Sweet & sour king prawn
Stir-fried bean sprouts
Special fried rice
£38.00
Set D for 2 Persons
Spare ribs
Crab claws
Sesame prawn toast
Quarter duck
King prawn with black bean sauce
Chicken Chinese mushroom in oyster sauce
Beef with mushroom
Mixed vegetables
Special fried rice with pineapple
£42.00
Set E Vegetarian Meal for One
Vegetarian spring rolls
Mixed vegetables
Mushroom fried rice
£10.00
Set F Vegetarian Meal for 2 Persons
Sweetcorn soup
Vegetarian spring rolls
Family bean curd
Mushroom chop suey
Pineapple rice with cashew nut
Chow mein with bean sprouts
£25.00
Roast Pork Omelette & Chips
£5.50
King Prawn Omelette & Chips
£6.00
Mushroom Omelette & Chips
£5.30
Duck Chinese Style with Bean Sprouts & BBQ Sauce
£6.00
Duck with Bamboo Shoots & Chinese Mushroom
£6.00
Duck with Black Bean Sauce
Hot & spicy dish
£6.00
Duck with Ginger & Spring Onion
£6.00
Duck with Kung-Po Sauce & Cashew Nuts
Hot & spicy dish
£6.00
Duck with Mixed Vegetable
£6.00
Duck with Szechuan Sauce
Hot & spicy dish
£6.00
Aromatic Crispy Duck Half
Served with 6 pancakes per quarter, spring onion, fresh cucumber, hoisin sauce
£15.50
Aromatic Crispy Duck Quarter
Served with 6 pancakes per quarter, spring onion, fresh cucumber, hoisin sauce
£8.00
Aromatic Crispy Duck Whole
Served with 6 pancakes per quarter, spring onion, fresh cucumber, hoisin sauce
£30.00
Sesame Prawn on Toast (6)
£5.50
Smoked Chicken
Hot & spicy dish
£5.50
Spare Ribs with Barbecue Sauce
£5.80
Kung-Po Ribs
Hot & spicy dish
£5.80
Pepper Chicken
Hot & spicy dish
£5.50
Pepper Chicken Wings
Hot & spicy dish
£5.50
Pepper Fish
Hot & spicy dish
£6.00
Pepper King Prawns (9)
Hot & spicy dish
£6.00
Pepper Ribs
Hot & spicy dish
£5.80
Pepper Squids
Hot & spicy dish
£6.00
Mixed Hors D'Oeures for 2 Persons
Sesame prawn, spare ribs, seaweed, crispy spring rolls & satay chicken
£8.20
Homemade Butterfly King Prawn (9)
£6.00
Homemade Cheese Mushroom (6)
£3.50
Homemade Spring Rolls (4)
£3.50
Green Mussels with Black Bean Sauce
Hot & spicy dish
£6.50
Chicken Chinese Style
With bean sprouts & barbecued sauce
£5.50
Crispy Chicken with Chilli
Hot & spicy dish
£5.50
Crispy Chicken with Kung Po Sauce & Cashew Nuts
Hot & spicy dish
£5.50
Cihcken with Oyster Sauce
Stir fried baby sweetcorn, straw mushrooms, peas, onion, spring onion in oyster sauce
£5.50
Chicken with Black Bean Sauce
Hot & spicy dish
£5.50
Chicken with Black Pepper Sauce
Hot & spicy dish
£5.50
Chicken with Capital Sauce
£5.50
Chicken with Cashew Nuts
Stir fried with bamboo shoots, carrots, baby sweetcorn, straw mushrooms & cashew nuts
£5.50
Chicken with Ginger & Spring Onion
£5.50
Chicken with Mixed Vegetables
£5.50
Chicken with Sea Spice Sauce
Hot & spicy dish
£5.50
Chicken with Szechuan Sauce
Hot & spicy dish
£5.50
Chicken with Tomato Sauce
£5.50
Chicken with Yellow Bean Sauce
£5.50
Sweet & Sour Chicken Balls (10)
£5.50
Sweet & Sour Chicken Hong Kong Style
£5.50
Crispy Chilli Beef
Hot & spicy dish
£5.80
Beef with Ginger & Spring Onion
£5.50
Beef with Mixed Vegetables
£5.50
Beef with Szechuan Sauce
Hot & spicy dish
£5.50
Beef with Black Bean Sauce
Hot & spicy dish
£5.50
Beef with Black Pepper Sauce
Hot & spicy dish
£5.50
Kung Po Beef with Cashew Nuts
Hot & spicy dish
£5.50
Sweet & Sour Pork Balls (10)
£5.40
Sweet & Sour Pork Hong Kong Style
£5.40
Pork with Black Bean Sauce
Hot & spicy dish
£5.40
Pork with Ginger & Spring Onion
£5.40
Pork with Mixed Vegetables
£5.40
Pork with Szechuan Sauce
Hot & spicy dish
£5.40
Lamb with Black Bean Sauce
Hot & spicy dish
£6.00
Lamb with Ginger & Spring Onion
£6.00
Lamb with Mixed Vegetables
£6.00
Lamb with Szechuan Sauce
Hot & spicy dish
£6.00
Mongolian Crispy Lamb
Served with 6 pancakes, spring onion, fresh cucumber & hoisin sauce
£8.20
Thai Curry Green King Prawn
£7.20
Thai Curry Red King Prawn
£7.20
Thai Hofan with King Prawn
£6.80
Thai Hot & Sweet & Sour Chicken
£6.80
Thai Hot & Sweet & Sour Fish
£7.00
Thai Hot & Sweet & Sour King Prawns
£7.00
Thai Hot & Sweet & Sour Pork
£6.80
Sweet & Sour Mixed Vegetables
£4.80
Mushroom with Black Pepper
Hot & spicy dish
£4.80
Mushroom in Black Bean Sauce
£4.80
Bamboo Shoots & Chinese Mushroom
£4.80
Bean Curd with Black Bean Sauce
£4.80
Bean Curd with Yellow Bean Sauce
£4.80
Mushroom Curry
Hot & spicy dish
£4.80
Mixed Vegetables in Black Bean Sauce
Hot & spicy dish
£4.80
Crispy Seaweed with Cashew Nuts
£3.50
Homemade Vegetarian Spring Rolls
£3.50
House Special Vegetarian Rice
£5.50
House Special Vegetarian Chow Mein
£5.50
Mixed Vegetarian Chow Mein
£5.30
Mixed Vegetarian Vegetable Rice
£5.30
Singapore Vegetarian Noodles
Hot & spicy dish
£5.30
Singapore Vegetarian Rice
Hot & spicy dish
£5.30
Singapore Noodles
Hot & spicy dish
£5.50
House Special Chow Mein
Mixed meat, seafood & vegetables
£6.00
King Prawn with Black Bean Sauce
Hot & spicy dish
£6.00
King Prawn with Cashew Nuts
£6.00
King Prawn with Ginger & Spring Onion
£6.00
King Prawn with Kung-Po Sauce & Cashew Nuts
Hot & spicy dish
£6.00
King Prawn with Mixed Vegetable
£6.00
King Prawn with Oyster Sauce
£6.00
King Prawn with Szechuan Sauce
Hot & spicy dish
£6.00
King Prawn with Tomato Sauce
£6.00
Sweet & Sour Balls
King prawn, chicken & pork balls (3 of each)
£6.00
Sweet & Sour King Prawn Balls (9)
£6.00
Sweet & Sour King Prawn Hong Kong Style
£6.00
Roast Pork Fried Rice
Large
£5.30
Singapore Fried Rice
Large
Hot & spicy dish
£5.50
Roast Pork & Roast Duck Rice
Large
£6.00
Shredded Duck Fried Rice
Large
£6.00
Beef with Fried Rice
Large
£5.30
Bean Sprouts Egg Fried Rice
£3.20
Golden Rice
Mixed meat, seafood & vegetable
Large
£6.00
King Prawn Fried Rice
Large
£6.00
Curry Roast Pork
Hot & spicy dish
£5.30
Curry Beef
Hot & spicy dish
£5.50
Curry Chicken
Hot & spicy dish
£5.50
Curry Duck
Hot & spicy dish
£6.00
Curry King Prawn
Hot & spicy dish
£6.00
Curry Lamb
Hot & spicy dish
£6.00
Curry Squid
Hot & spicy dish
£6.00
Special Curry
Hot & spicy dish
£5.80
Contact Us
Find Us
31 Whitley Street, Reading, RG20EG
We deliver to
RG1, RG2, RG30, RG31, RG4, RG41, RG5, RG6, RG7